Winter Activities For Those Staying In Villefranche-sur-mer
You don't have to limit your visit to the French Riviera only for the summer months. Because Villefranche-sur-Mer is in the heart of the Maritime Alps, you can easily book your stay at Villa Hippocampo during the colder months and take advantage of the many outdoor activities available in the broader area.
Here are some suggestions that should be on your itinerary if you enjoy outdoor activities. Among the highlights are the many ski options in the Alps. Most ski tracks are about an hour or two drive from Villefranche-sur-Mer; other winter activities are tempting and offer much entertainment, some of which we'll cover here.
The main suggestion for any ski enthusiast is to visit Isola 2000, a major ski resort in the south of France, about 90 km north of Nice and Villefranche-sur-Mer. The skiable area covers about 20 sq. km and has 4 black, 11 red, 21 blue, and 7 green ski runs for 120 km of pistes. Also, there is a ski lift system for all the paths, and the entire area has a favorable micro-climate. Also, there are snow cannons to guarantee constant skiable conditions, and any fan of winter sports, or downhill skiing and snowboarding, can take advantage of the winter season while still enjoying the beauty Cote d'Azur has to offer.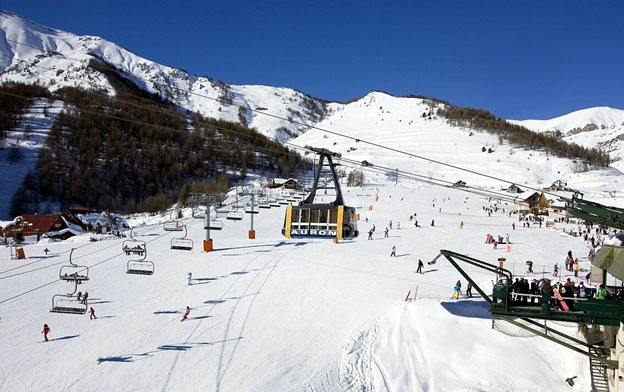 Auron is another excellent ski resort in the French Alps that you can visit when you stay at Villa Hippocampo in winter. It is about 100 km to the north, which you can reach in less than 2 hours driving. Once at Auron, you will encounter a modern ski resort with all the accouterments: 135 km of piste for skiing and snowboarding, including 3 green, 16 blue, 15 red, and 9 black runs. There is a massive ski lift system, downhill racing facilities, and a snow park; snow cannons ensure favorable skiable tracks throughout the entire winter season. Auron is a favorite winter ski resort for celebrities and wealthy visitors of the French Riviera.