The French Riviera has long been synonymous with luxury, and Nice's bar scene is no different. As the sun dips behind the hills, shrouding the port city in twilight, the bars fill with tourists and locals alike. From the trendy rooftop bars boasting views of the sparkling Mediterranean to the traditional bistros tucked away in the corner of old cobblestone squares, there is something for everyone.
Le Viver – A Unique Destination
Le Plogeoir restaurant's bar, Le Viver, is an exceptional choice for those seeking a unique experience. Set atop a rock more than six meters above the water, visitors are treated to the sight of diving platforms that give the establishment its name.
Though reservations are required for dinner at Le Plogeoir, Le Viver bar is open daily from 4:30 pm and requires no prior booking. Here guests can enjoy Lebanese snack specials, wines, spritzes, and signature cocktails. The atmosphere is relaxed and inviting while also uniquely extravagant. The incomparable views of the Mediterranean Sea below make it a hot spot regardless of the time of day.
On the water
Exciting signature cocktails and spritzes
Specialty Lebanese snacks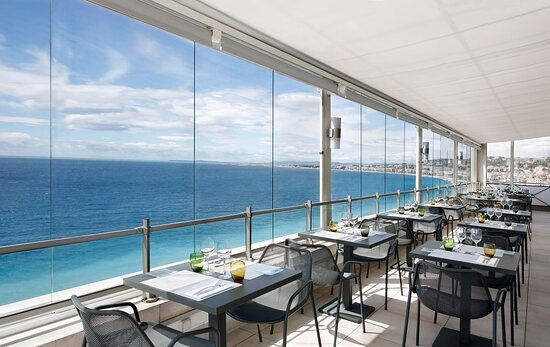 Perched atop one of the highest points of the Promenade des Anglais, La Terrasse offers stunning views of the Mediterranean Sea and the French Riviera. Connected to a locally sourced seafood restaurant, La Terrasse is a gorgeously designed open-air space with a comfortable lounge area. While sipping on their signature drinks, guests can relax and enjoy the sunset or take in the twinkling lights of boats bobbing in the harbor below.
The bar features a classic cocktail list and an impressive selection of local beers and wines. La Terrasse has you covered whether you're looking for something refreshing and light or strong and indulgent.
Rooftop bar
Open air
Locally sourced seafood
If the weather isn't suitable for a rooftop experience, Latitude Bar is in the same hotel, just a few floors down, and offers an entirely different vibe. The stylish bar and restaurant are excellent for an intimate and sophisticated evening. Latitude's menu boasts a unique blend of classic American and French cuisines with a modern twist, while the beverage list features creative signature cocktails, craft beer, and curated wines.
Fun signature cocktails
Interesting and delicious food options
Shapko – Local's Favorite Jazz Bar
Shapko has earned a reputation as a favorite among locals for its great atmosphere and excellent live music. The bartenders are well-versed in their craft and can whip up just about any drink you request, even if it isn't on their menu, which is filled with classic and signature cocktails.
A night at Shapko is usually a lively affair. Local patrons and travelers alike fill the bar, enjoying a lively atmosphere with live jazz music. As the night goes on, the atmosphere grows livelier as crowds are drawn to the talented musicians who play their hearts out. Keep this in mind if you want to sit instead of dance at this must-visit bar!
Live music
Friendly staff
Excellent cocktails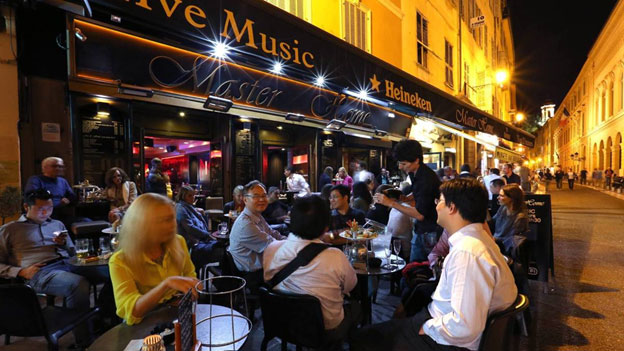 Master Home is a favorite among locals, known for their incredibly well-made cocktails and classic drinks. The bar has a popular happy hour with excellent deals on their beers and cocktails. The staff is welcoming and knowledgeable, always willing to suggest what drink best suits the customer's tastes. Once 9 pm rolls around, the atmosphere shifts to a nightclub with live music and DJ sets. Local crowds fill the bar, looking to drink and dance to the latest tunes. Master Home maintains a lively and upscale atmosphere that attracts mainly young adults looking for a lively night out.
If you are looking for a taste of true luxury combined with an electric atmosphere, Master Home is the perfect spot for you! It is a must-visit for anyone who appreciates expertly crafted cocktails and a great music selection.
Live music
Happy hour
Excellent cocktails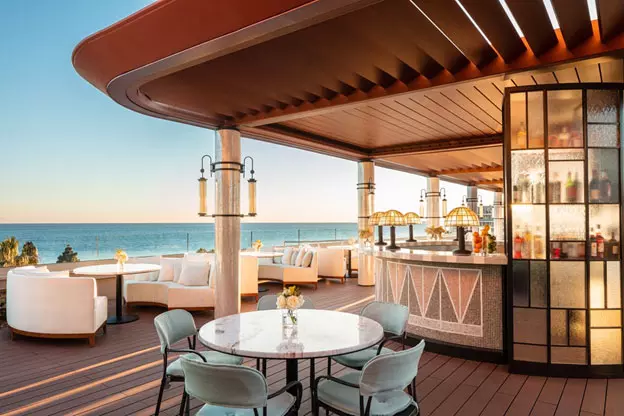 Located high above the streets of Nice, SEEN is self-described as the city's "most exclusive rooftop bar." Offering dazzling panoramic views of the Mediterranean and an atmosphere that combines chic sophistication with upbeat vibes, it is a must-visit destination for anyone who appreciates the finer things in life.
SEEN's menu features many signature cocktails as well as well-loved classics. They also offer sushi, caviar, and other seafood dishes that will please any palate. Their DJ keeps the atmosphere bouncy while guests enjoy their drinks and food. Whether celebrating an event or just looking to enjoy the atmosphere, this rooftop bar should be on your list!
Rooftop bar
Seafood menu
Live DJ