A Luxury Villa Rental in the French Riviera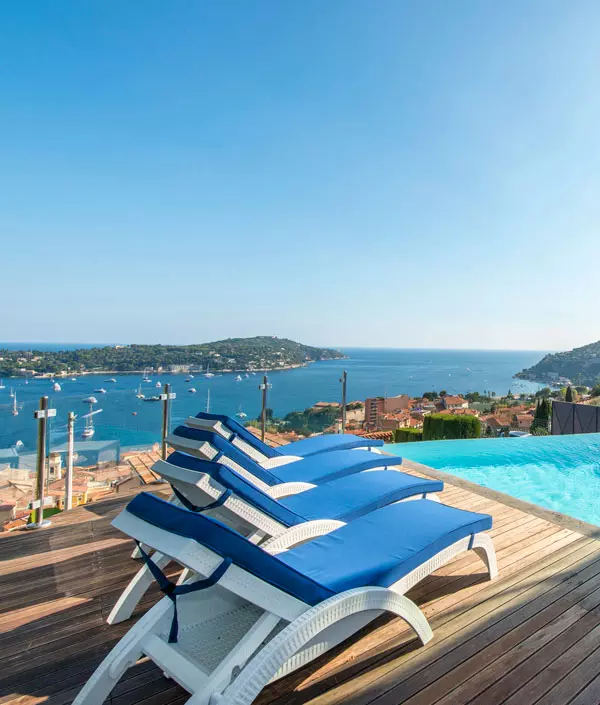 Luxury Villa Rental
Cote d'Azur
Villa Hippocampo is located in the hills of one of the most iconic towns on the Riviera —Villefranche-sur-Mer. Villefranche is one of the three villages that compose the world famous "Golden Triangle" on the Cote d'Azur.  The town is nestled alongside St. Jean Cap Ferrat and Beaulieu-sur-Mer and offers one of the best views that the Golden Triangle has to offer.  The Villa overlooks the orange-tiled rooftops and church steeples of Old Town, the white sandy beaches and crystal-clear azure waters of the harbor– and just beyond the harbor– St. Jean Cap Ferrat. St. Jean Cap Ferrat is home to the most expensive real estate in the world and has hosted royalty, the rich and the famous for more than 150 years.
The villa is quietly secured in the most desirable part of the town—up above the bustle of Old Town but close enough to easily access the central village with its restaurants, cafes, beaches, and shopping via foot, bicycle or automobile.
Villafranche-sur-Mer in the
French Rivieria
The villa views are difficult to describe because they are so unique and breathtaking. Besides the close views of the towns, yachts and harbors, the Villa also offers long expansive views of the Mediterranean Coast from Nice to the Italian Riviera. On a clear day when the stars line up, the mountain tops of Corsica miraculously appear in the distance, 200 miles off the coast. There are unobscured views from virtually every room in the villa, as the entire southern wall is all glass, and each of the bedrooms and the main living area open onto terraces for outdoor enjoyment.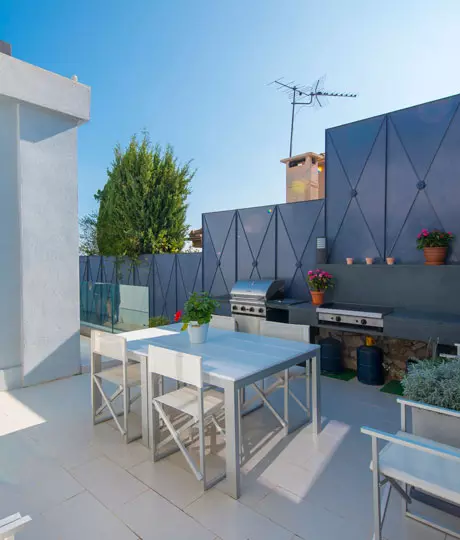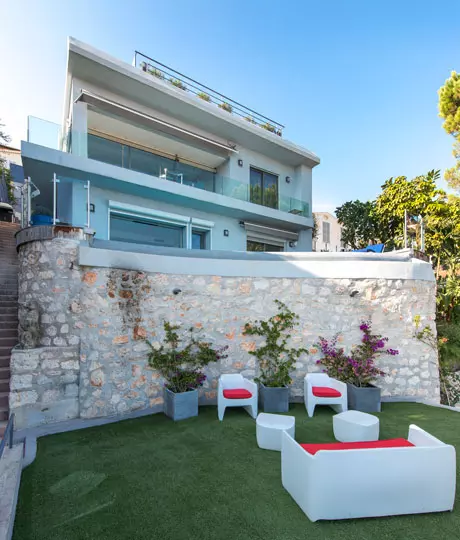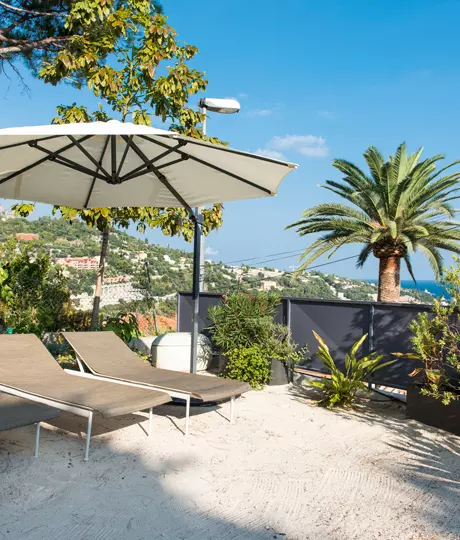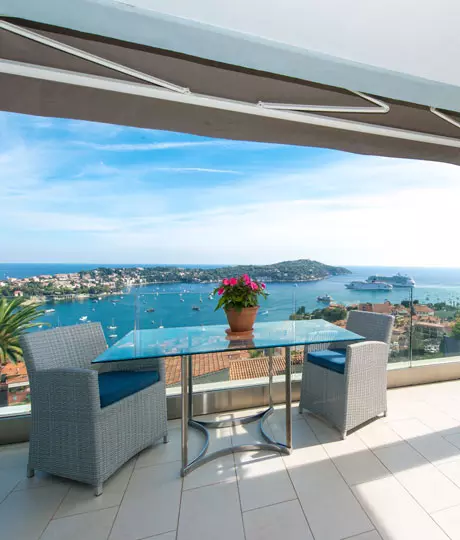 We had a wonderful vacation staying at the Villa Hippocampo in Villefranche during the last week of October. How fast a week goes by! October turned out to be a great time to go – sunny weather but not too hot, and no tourist crowds. As long as we avoided commute hour traffic through Nice, we could speed along the city, mountain and coast roads, just like in the movies. Villa Hippocampo should be in architecture magazines. The house is strikingly beautiful and has everything. Every room has interesting and unique design details, and most have stunning views. Our two boys each quickly picked their favorite room to stay in. We loved the large master bedroom on the pool level (each room is like a master with its own bathroom). The view through the giant bedroom windows over the pool and across the cove to Cap St Jean Ferrat was so beautiful that we could never bring ourselves to close the shades lest we miss a moment of the gorgeous nighttime view of the moonlit shimmering water, or the morning sunrise. It is a happy house, and Villefranche is a charming town. Walk to everything. The pastries at the boulangerie down the steps and to the right, across from the park on the corner of Avenue Albert 1er and Ave du General de Gaulle, were so good we had them for breakfast every day! The first one up in the morning would go down and bring back a selection for the family. Be sure to have at least one meal at a restaurant on the water. We went to and enjoyed Carpaccio and La Mere Germaine. Our favorite find was Le Serre on the rue de May, just a couple blocks up from the water. Great food, low prices, and charming service. Like nearly everywhere, seating is available inside and outside. An unexpected delight in the village of Villefranche was discovering the tiny Chapelle Saint Pierre church, inside which Jean Cocteau painted the walls and ceilings with local themed scenes – in the way only he can paint. We'll go back! Very soon we all hope!
Villa Hippocampo was actually suggested to us by friends who have stayed there and I must say they talked it up so much that my family and I arrived with really high expectations. The fact that the villa delivered on all counts is testament to a winning combination: magnificent home set in splendid surroundings in what is probably one of the most glorious bays on the Côte D'Azur. What more could one want? The classy yet unpretentious decor suited our taste, and the feeling of roominess and lack of clutter were perfect when holidaying with a family of eight. Everyone has their privacy and space to move around in. The kitchen was also perfect—not gigantic but joined with the main room so that we could cook together and never get in each other's way, or have to leave someone in another room when we prepared meals—just brilliant. The home is set on three levels, which may have been a problem had I decided to take my mum along; the steps would've been a challenge with her new hip! Perhaps families with young children may need to consider this too, but for us it was no problem at all; the exercise was really needed considering we spent our entire time feasting on the delights of Villefranche-sur-Mer! As hard as it may be to leave the villa for meals out (because there is no better view, even in the best restaurants overlooking the Bay), you really should check out some of the restaurants in town, there are some real gems there. Our favourite by far was L'Aparte, a small exquisite restaurant just a block back from the harbour. We gorged on their delectable mixed seafood grill and everyone just fell in love with the baked Camembert! Wonderful service, superb food presentation and super friendly owners made this a real highlight for us during our trip. We ate there more than a few times! Overall, our holiday in Villa Hippocampo was textbook perfect and, as much as we love visiting a different place every year, we're seriously considering returning here next year. There is still so much left to do.
Villa Hippocampo was an oasis for my friend and me for our very first trip to Cote d'Azur.  The villa has an extraordinary view of the harbor at Villefranche Cap-Ferrat and when you look out from the balconies, it seems almost like you are dreaming in blue. The villa is well-equipped and it is easy to enjoy each day without worrying about how to use the appliances and the pool. Patrice (the local contact) was able to help us to learn to use local transportation at the bottom of the hill.  We shopped locally and ate at many of the small restaurants in the village. I would recommend this villa to families because of the lovely pool, media room, easy and safe access to the town and beach.  It is a home away from home in an unforgettable setting. Update from Patricia's second stay: "When I stay at this villa, I feel like I am at home. I feel like I am on vacation. I see beauty all around me. I am excited. And I am at peace. I never want to leave."
The villa is situated on a hill above the old town, with a view of a lovely small harbor.  In fact, floating in the infinity pool, you feel as if you're in the sea itself.  Divine.  The building must have been completely refurbished because it is all new, with modern baths, a well-stocked kitchen, and fresh, simple and clean modern décor throughout.  And complete privacy.  I never saw a neighbor. To see the surrounding area, visitors have a choice of getting their exercise by walking down an enormous, long public stairway that leads directly from the villa to the old town, or driving down the hill. The farmer's market in the old town plaza is good for fresh food and bargains. For serious shopping, the bus at the plaza takes 15 minutes to get to Nice. A brief walk back towards the harbor finds the train depot with very short rides to Monaco, Nice, Antibes, or longer rides to anywhere.  I do recommend using the car for a beautiful drive to Eze or St. Paul de Vence, which were lovely, but the local sights are easy to walk to and charming. A friend brought me here when I needed a rest.  When I left, I realized I had chosen to be busy the whole time, but busy doing interesting, fun, and beautiful things, and I left refreshed. I will return to this little bit of heaven.
Before you get taken in about renting a villa in the midst of the "beautiful people" of St. Jean Cap Ferrat, do some research on Villefranche-sur-Mer. I have rented in St. Jean for the past ten years, but finally gave Villefranche a try. Perhaps it was because of the glorious villa (Villa Hippocampo) we rented with unbeatable views (including all of the houses we rented in St. Jean Cap Ferrat) or perhaps it was because the weather was amazing for the winter months or perhaps it was because my kids were so mesmerized by the "cool pool" at the villa whose side wall is a window to the lower floor video room, but we had our best winter vacation ever. Villefranche is more accessible, more friendly, and interesting than St. Jean Cap Ferrat which is beautiful but limited, especially since all of the estates are walled off and not visible to outsiders. Try renting a kayak in Villefranche Harbor, taking a tour of the old castle and fort, rummaging through the small outdoor antique and food market on Saturdays, or hopping on a train to just about anywhere on the coast in either direction without worrying about parking. We were two related families—five adults and two children who travel together each winter. It was ideal. Thank you!
I'll start by admitting that my sister and I had a few reservations about booking Villa Hippocampo without seeing it in person first, especially as we planned to stay there several weeks.  We could not afford to make a mistake!  We'd been planning a trip to the South of France since we were teenagers (quite a few years ago now) and by the time we managed to get our act together and start researching a suitable place for both our families (4 adults & 4 kids) all we heard about were holiday rental disaster stories. But we took the plunge and I'm just so happy we did! Jimmy and his wife Anna are great communicators and we felt taken care of right from the first email. Yes, Villa Hippocampo looks magnificent on the net, but just wait till you see it for yourself! It's really something out of a movie…splendid water views from every room, ample room for the kids to chill out in and a gourmet kitchen that makes eating in a joy. The villa is so gorgeous we (almost) found it a challenge to walk out the door every day; it really is the dream Côte d'Azur villa everyone fantasises renting when they finally can afford it (and it's not expensive compared to affording a hotel for 8!) Villefranche-sur-Mer is the ideal location to explore the coast, and the town is quaint and exquisitely picturesque. We loved walking down to the local food market every day and buying supplies from local growers; they were so helpful too, especially when we asked how to cook certain things (like aubergine) which we'd never tried before. Oh, while we were there, we also took French classes at the Institut de Francaise in Villefranche-sur-Mer (yet another teenage dream ticked off) and, while our language skills still leave a lot to be desired, the whole experience was just wonderful. The kids kept themselves busy with kayaking and water sports in the mornings while we were in class, and we spent the afternoons touring nearby towns like Nice and Monaco. Funnily enough, our 18yo boys only agreed to come along once they heard the villa had wi-fi, yet it's the first time in years we haven't seen them glued to their i-phones, so there you go! Thanks again Sage for taking care of us and for hiring such a helpful concierge as we found in Jimmy. It was an absolute breeze to organize our outings with his help. We couldn't have dreamt of a better holiday.
Our party of 4 stayed here for 2 weeks and had a wonderful time. The house is clean, spacious, comfortable and beautifully decorated. You can tell the owner spared no expense in renovating this home. But the best part of this villa isn't inside—it's outside! The view alone is worth a million dollars! Not a day of our vacation went by without sitting outside and enjoying the view and the pool. By the way, the media room with a view into the pool is so cool!! We really enjoyed the location as well. It was fun to leisurely explore the many little villages, shops and markets within close distance. And only a few minutes to the beach! The concierge was so friendly, professional and helpful which made our stay effortless. Everything about this place was fabulous. We had a great stay and would definitely recommend it to any of our friends and family. Thank you!
Our family had the great opportunity to visit and vacation at Villa Hippocampo in early fall and we cannot express just how beautiful everything was. The villa and its décor was so chic and modern yet comfortable. The views from all rooms were breathtaking and picturesque and had me pinching myself in case I was dreaming. My two growing teenage boys had plenty of room to stretch out and relax while my daughter enjoyed having her own suite. The media room and the underwater pool view from inside was a hit with the kids. We love to cook and were able to take advantage of the gourmet kitchen for some home cooked meals using fresh produce from the local market. The town was incredibly charming and we felt safe with the children walking into town or to the beach by themselves. We explored the beaches and went kayaking on Villefranche harbor. The sights were amazing and colorful during our cycling along the coastal trail. I have never seen such beauty. We had a chance to drive to Nice one day and Monaco the next. Everything was incredibly close and convenient. There was not one day where we were at a loss for something to do from snorkeling on the beach to dining at the seaside restaurants where the ambiance and cuisine were wonderful. We are already planning our next trip to Villa Hippocampo very soon. We can't wait!
I'm not sure if I can find the words to describe how amazing Villa Hippocampo is but I will try. First, the pictures on the website are what sold me on planning this vacation. Yes, Villefranche-sur-Mer is a beautiful town but Villa Hippocampo truly took our vacation up a notch! It is even more stupendous in person. The views alone could have kept us occupied most of the day. And the pool with the glass wall that looks into the video room—WOW!! The design and décor of this house is so modern and clean that it immediately puts you at ease which is exactly how you should be on a vacation. The location of Villa Hippocampo is so convenient. Walking distance to beaches and a quick trip to Nice or Monaco made for fun days. We especially liked the flower and produce market in Cours Saleya in Nice where we would get ingredients for that night's meal—served on the beautiful terrace of course! We made great memories from this vacation that will last us a lifetime. We can't thank you enough! We will be planning a return visit soon!
Our stay at Villa Hippocampo was perfect in every way. The views are truly breathtaking, from each of the four suites to the expansive living and dining rooms and the lovely lanais. Each room is so well appointed, beautiful, comfortable and clean. The infinity pool overlooking the Cote d'Azur was probably our favorite part of the villa and where we spent the most time. I must admit we loved the villa so much we did not spend a lot of time in the charming and quaint town below, Villefranche-sur-Mer, but what we did see of it was exactly what you would hope for in a village on the french riviera. Do yourself a favor and check an item off of your bucket list by booking your stay at Villa Hippocampo today.
Villa Hippocampo is a luxury villa located in the Cote d'Azur. The villa's amenities include an infinity pool, which can be accessed from both the bedroom and the living area on the entry level. From the pool deck, the views are spectacular, offering a panoramic vista of the entire town of Villefranche-sur-Mer and the stunning Cote d'Azur.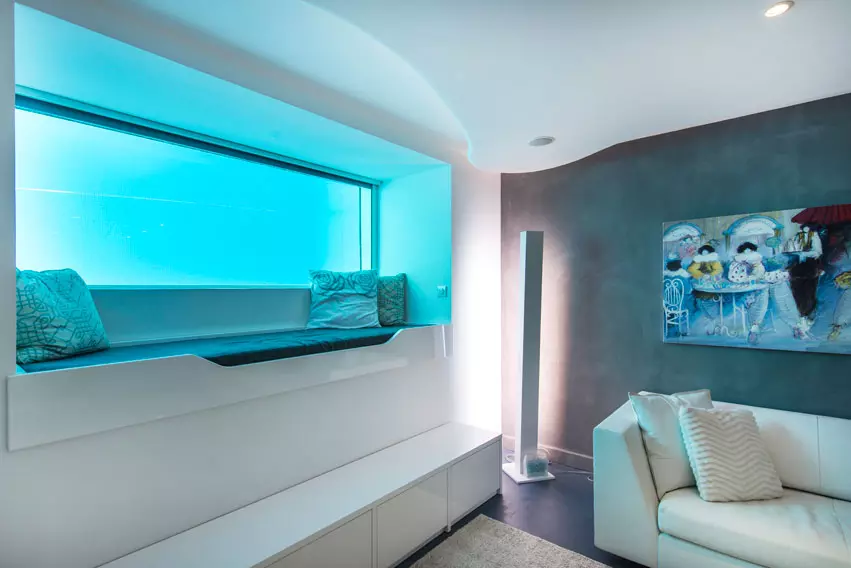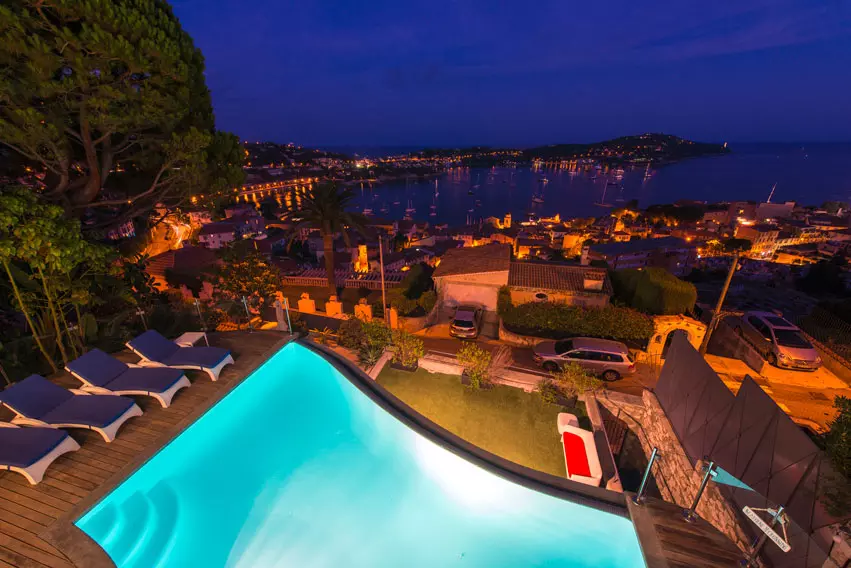 Our blog will primarily focus on travel itineraries and the daily experiences of vacationing in the South of France, specifically the French Riviera, with Villa Hippocampo as your basecamp. Additionally, we will occasionally feature reviews from our clients about their experiences. If you have any questions or would like to learn more about Villa Hippocampo, Villefranche-sur-Mer, or the Cote d'Azur, please don't hesitate to reach out. We are more than happy to provide additional details and information.