France has a well-documented tradition of embracing cycling as an integral part of life. The area around Nice is a cycling paradise, with a climate that allows for cycling nearly all year round, routes suitable for all levels of expertise, and protected bike lanes throughout the city. Nice and its surrounds showcases the country's many terrains and stunning scenery, ranging from towering mountains to sprawling fields and winding country roads. And, of course, the Mediterranean coast is never far away. The region is a perfect area to cycle, no matter your skill level.
While biking around the city is a great way to explore the sights and sounds of Nice at your own pace, if you prefer a guided tour Nice has plenty of options with standard or electric bicycles.
There are a variety of tours to choose from, ranging in length, difficulty, and included specials. Guided bike tours are great if you don't have much experience cycling around the city or prefer a more leisurely pace. For the more experienced bicyclist, there are longer routes that can take you around the region and even out into the nearby countryside.
Secret Organic Vineyard E-Bike Tour and Wine Tasting

Available through e-Bike the Riviera
5 hours
Available picnic lunch
Explore the vineyard and learn from the winemaker, who has decades of experience

The Nice City Cycle E-Bike Tour

Available through Nice Cycle Tours
3-5 hours
Explore the city's hidden gems, including gardens, churches, and palaces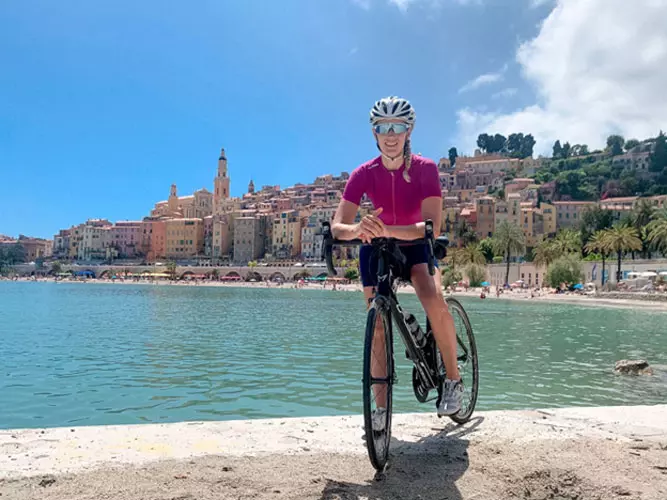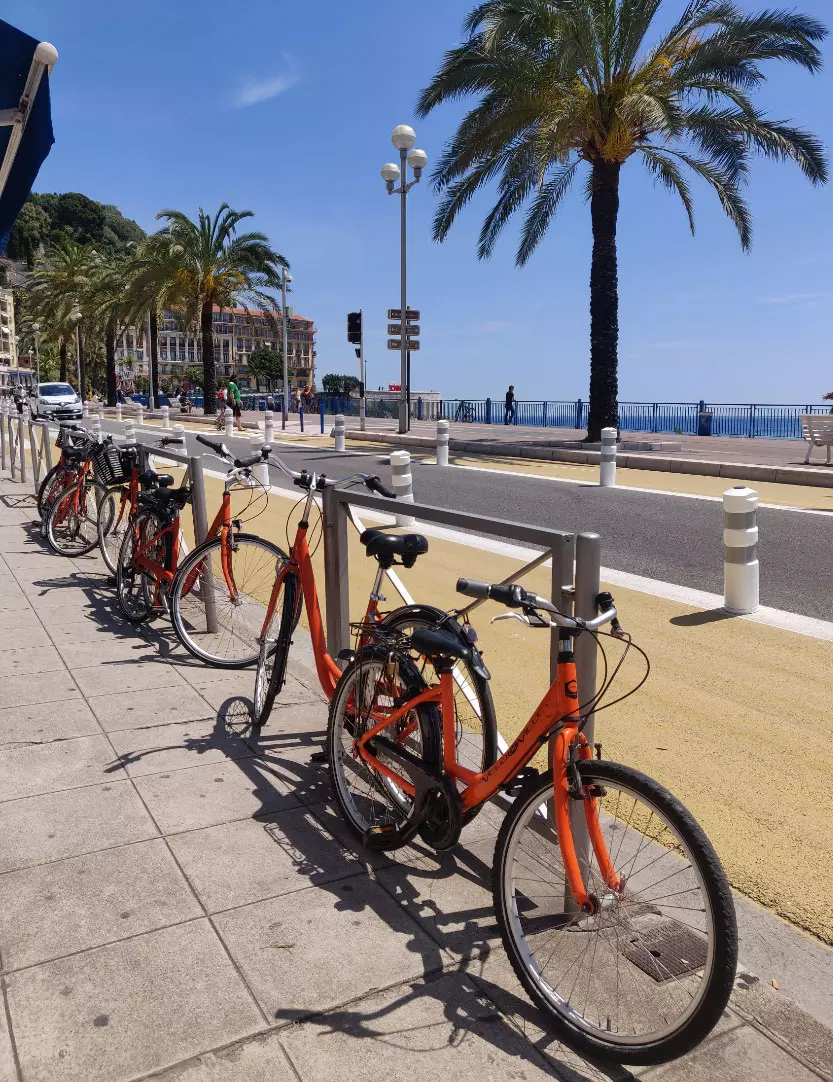 Renting a bike in Nice is a simple process, with many bike rental shops located conveniently around town. The shops offer both traditional bike or e-bike rentals by hour, day, or week. Some of the bike shops are also cafes, functioning as meeting points and hangouts for local biking aficionados!
Each shop operates differently, so I would recommend planning at least a week ahead!
Guided rides and meet-ups
Founded in Nice
Specialty high-end bicycles
For the more experienced bicyclist
Loft-style café, with drinks and snacks
Special events and group rides
Premium bicycles and bike accessories
Savings on multi-day rentals
Modern café, with drinks, snacks, and tapas
Closed on weekends
Specializes in more "unique" bike accessories
Retro, sport, and e-bikes
Bike and beach rentals
Offers hourly rentals
Provides padlocks
Bicycle, e-bikes, and motor scooter rentals
Helmet and lock included
Velo Bleu
Unlike a typical bike shop, Velo Bleu is a bike-sharing system. There are bike stations throughout the city, though many bikes are left where the last rider left them. With the Velo Bleu app, you can find and reserve any of their bicycles.
Bicycles and E-Bikes available
With your rental bike in hand, you are now ready to explore Nice and beyond. If you are looking for a more leisurely ride, some of the best routes can be found along the Promenade des Anglais. This picturesque stretch of pedestrian road gives riders incredible views of the Mediterranean Sea, while passing some great nearby restaurants and cafes to enjoy when taking a break.
For those looking for something a bit more adventurous, there are plenty of trails both off-road and on-road that will take you through the beautiful hills around Nice. The Gorges du Loup is one option, winding its way through lush green forests and stunning rocky canyons – perfect for nature lovers!
Offering a variety of options including electric bikes and vintage bicycles, Nice has something for everyone. Ride your way through some of the oldest neighborhoods in town or experience an evening wine tour. No matter your preference, bicycling while visiting Nice is an excellent way to get acquainted with all it has to offer while engaging in some light exercise!