Picturesque Villages Near Villefranche-sur-mer
The French Riviera is full of hidden gems, and even the great Jean Cocteau was fascinated by its captivating beauty, rich history, tasty food, and exotic unusualness. By booking a holiday at Villa Hippocampo, you'll be in the heart of things, surrounded by natural and man-made beauty, and have a unique opportunity to explore this slice of heaven. Here are some excellent places you will want to explore while staying in Villefranche-sur-Mer, and we guarantee you'll witness the immense beauty that the Cote D'Azur has to offer.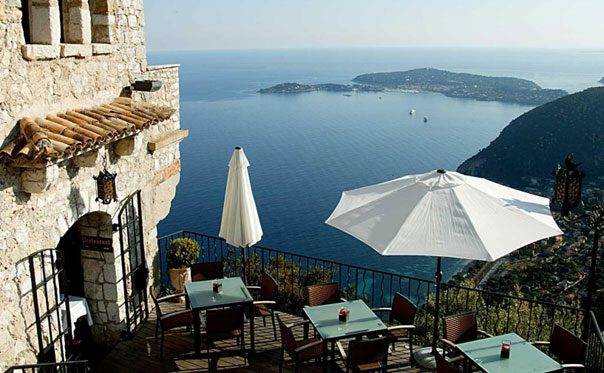 Eze is a small village located about 9 kilometers east of Villefranche-sur-Mer and tucked away between the Mediterranean and the mountains. Often referred to as the eagle's nest for its incredible location, Eze has so much to offer anyone visiting.

The small medieval village is famous for its charm and unmatched beauty. Eze is filled with shops, art galleries, hotels, and restaurants and attracts many tourists. Èze features gorgeous views of the Mediterranean Sea, and you can also enjoy incredible local foods and many excellent experiences.

Known also as one of the perched Villages, Eze has an abundance of beautiful cobblestone streets, facades with hot-pink bougainvillea, and much more. One of the must-see places in Eze is the Chateau d'Eza, a medieval castle-turned-hotel, and visit their Michelin-star restaurant. The food is fantastic, and the view is incredible – perched up on the Cliffside, Chateau d'Eza overlooks the beautiful village below and the sparkling Mediterranean in the backdrop.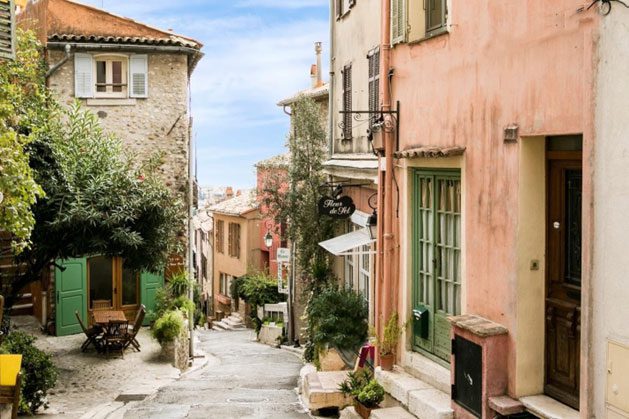 Cagnes sur Mer is a small town on the Mediterranean seashore, along a beautiful 4-km beach and a cove, with surrounding hills protecting the town. Cagnes sur Mer has a long medieval history and has a strong relationship with artists, renowned literary and historical figures, many of whom resided in this lovely town. The town has so much to offer anyone visiting, like the Renoir's estate surrounded by olive trees, the Medieval castle, the Hippodrome de la Côte d'Azur, and the beautiful beach and promenade lined with palm trees.

Of course, one should not forgo the cobblestone streets, old Provence facades, and small restaurants, every one offering you a new delightful culinary experience. When you book a holiday rental at Villa Hippocampo, you must visit Cagnes sur Mer, located 20 km west, and book a table at the incredible Michelin-starred Fleur de Sel restaurant.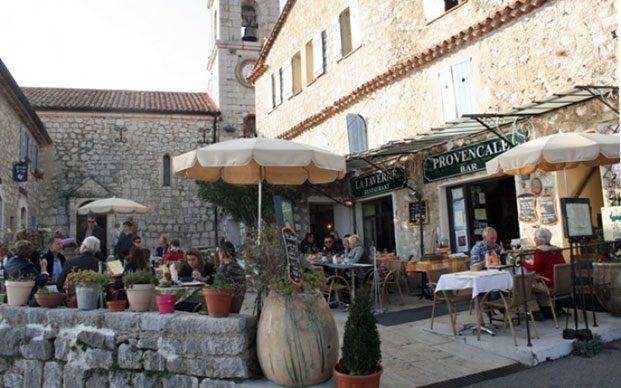 Tucked up in the hillside, the village of Gourdon is famous for its panoramic views of the valley and the Mediterranean in the distance. Built on a peak with impressive slopes, Gourdon is a perfectly preserved example of a feudal village. With only one entrance, the village is attractive to visitors as it has many offerings, along with the medieval fortress of Gourdon.

One can experience the breathtaking views and tour small shops with local products offering jam, cheese, soap, and excellent restaurants. One place you can visit is the Taverne Provencale and taste amazing family cuisine and incredible views of the mountains and the sea.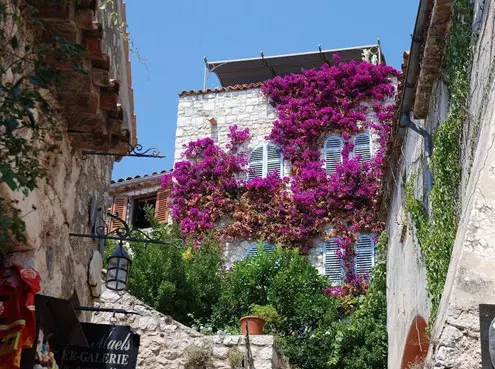 Grasse is considered the world capital of perfume and a famed location you should visit when you book your holiday rental at Villa Hippocampo. Grasse's location and specific microclimate have encouraged a blooming flower farming and perfume-making industry since the 18th century. Today, this place is world-famous for its production of jasmine, and an extensive perfume industry, primarily focusing on producing natural raw materials, like essential oils, concentrates, and absolutes.
The town of Grasse is a popular tourist attraction, and you can visit the fantastic historic sites like the Mussee Fragonard, where soap and perfume have been produced since 1782. After touring perfume museums and small perfume shops, you can stroll through the narrow streets and enjoy tasty local delicacies. Of course, if you visit at the beginning of August, you will experience the annual Fete du Jasmin, a celebration of the jasmine-growing industry of the town.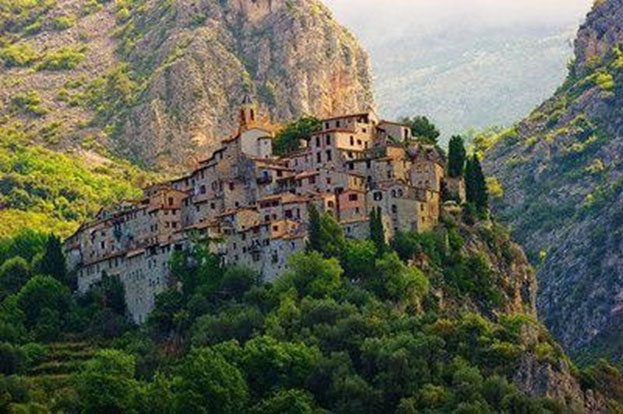 Located in the heart of Paillon Valley on a hilltop above Nice, the village of Peillon has stairs instead of streets. It has an abundance of medieval stone houses and fabulous vistas of the surrounding mountains. A visit to Peillon is not to be missed and is only 22 km away from Villa Hippocampo. It is an unusual town, not yet discovered by tourists and has a unique feel to it.

You can drive, hike, or bike to reach the village, but the trek is worth it, as the views are amazing, and the medieval village has small, narrow cobblestone streets, stone walls, and many hidden secrets for you to discover. After a pleasurable stroll, you can have a delicious meal at a family-run inn and restaurant, Les Plaisirs, where you will find traditional Provencal recipes made from regional produce.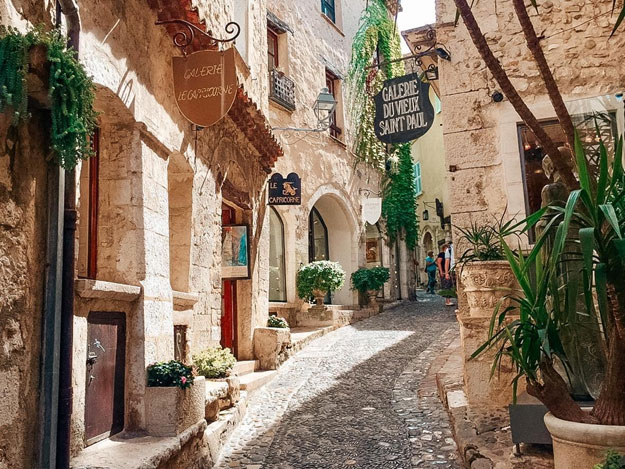 Saint Paul de Vence has been a haven for notable artists, and Jean-Paul Sartre, Pablo Picasso, and Gene Wilder have stayed here, among others. St. Paul de Vence is a fortified village in Provence and is filled with art galleries, excellent boutiques, quaint sidewalk cafes, and eateries. The winding streets hide elegant fountains, vine-covered stone walls, and hidden gems everywhere you look. The views are incredible; on one side are the snow-covered Alps, and the other has the Mediterranean sparkling in the background.

The cobblestones shaped like flowers are an exciting St. Paul de Vence staple. You must note that the village has about 300 residents but is visited by 2.5 million tourists annually. Walking through St. Paul de Vence, you'll encounter various artwork, religious statues, and more. Afterward, you can enjoy delicious food at Le Colombe d'Or or Le Saint Paul.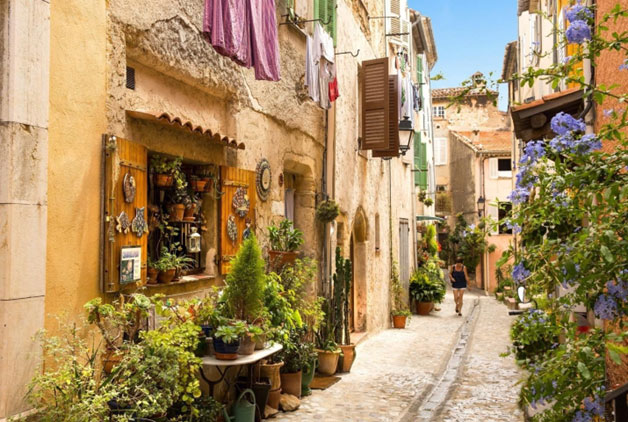 Another fortified medieval village in Provence-Alpes-Côte d'Azur, Biot, is only 33 km west of Villefranche-sur-Mer. Biot is only 4 km inland from the Mediterranean coast. It is also famous for its glassmaking industry and its notorious yet fascinating heritage of being a pirate refuge, Knights Templar village, and one of the villages most affected by the Black Plague. It was also the home of Cubist artist Fernand Leger, and a large museum is dedicated to this artist.

When in Biot, you should visit the old town, the Biot History and Ceramic Museum, to learn about the ceramic history of the town, and then tour one of several glass-blowing studios to learn about Biot Glass. Walk the cobblestone streets filled with potted oranges, creeping vines, blooming bougainvillea, and oleanders in every color. Afterward, you can enjoy a tasty lunch at Les Arcades, Le Place aux Arcades (the Place with the Arches), or a coffee at the town square.